I've always admired those who specializes in home-made bakes. There is something about the familiarity of scents that brings comfort and warmth into a family. I remembered that as a little girl, I could smell whatever my mother was cooking in the kitchen and immediately felt a sense of belonging.  So many aromas are lost in modern homes because of the pressure for both parents to be in the workforce, leaving household chores and preparation of meals in the hands of domestic helpers.
In our family, we try to bake from time to time but really we love creating art more than anything. We love beautifying our spaces with works that were created by the children. And so it is my hope that the boys will remember that this raw yet beautiful works of art reminds them of home as they grow.
When the boys were younger, we had every piece of creation displayed on one panel of the wall, but facing space constraints, we now had to put their art pieces near the ceiling!
Our art is not perfect. It speaks of our journey, a learning experience and a life in progress. Art does wonders to our souls; it is spontaneous and it is thoughtful, it is creative,  it is powerful and it is messy all the same.
It says "I have been here", it says "I am capable of creating something good". It helps a child makes sense of his world around him.
I remembered once when I sat down to paint when words fail me, the boys too took to their seats and started to paint beside me.  Yesterday, my eldest son wanted to play the piano badly, but the power socket was not working. He was really disappointed and asked to draw. Although it was nearly bedtime, I let him. I was pleasantly surprised he was able to processed his feelings without having to throw a fit. Art allows a child to reach inside and find a resolve.
When creating their art, the children are not afraid to try. It does not matter if their creation is different from each other.
I hope they will always remember that they are wonderfully and fearfully made. Beautiful in the eyes of their Creator. I am hoping that the art pieces that we create will continue to bring joy, comfort and love unending in our family.
In celebration of Mothers' Day from 12 April – 12 May, "Celebrating Domesticity" lets us into different families around the world and see how joy, love, peace, warmth, comfort, security, laughter and more is poured into their daily lives, making a home a place everyone wants to come back to.
"Homemaking is the deliberate cultivation of beauty and productivity in family relationships. Homemaking is about helping your family feel loved and comforted. Homemaking is about celebrating each other, and about caring for each other, as well as for your friends and extended families and even the occasional stranger. Anyone can keep house. Not everyone bothers to make a home." Art of Homemaking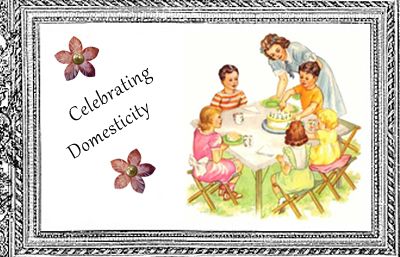 12 April 13 - Oak Tree Baby (Art)
19 April 13 – The Foodie Army Wife (Pizza)
26 April 13 – Kingdom Work Ain't Easy Peasy (Food)
30 April 13 – Life at the Scharf House (Baking)
1 May 13 – Home-Schooling Greene Style (Finance)
3 May 13 – No Doubt Learning (Gardening)
7 May 13 -  Home-Schooling Greene Style (Menu)